Not only PREVIEW ... .... I'll tell you about my book
Three days of presentations and premieres, 23 authors, 17 meetings and 4 locations in the historic heart of the city: "Preview" back in Florence between the impressive scenery of Piazza Duomo and the rock, the cloister of St. Augustine and the municipal theatre.
The city of art and noble city of Versilia famous throughout the world for its great artistic resourcefulness and cultural dynamism of its tender between exhibitions, shows, events and entertainment throughout the year, poised to become, for three days, from Friday 29 April to Sunday 1 may, the national capital of publishing.
FRIDAY 29 APRIL
-19 HOURS
Franco Causio, mark and Sara TPassion and soccerPiazza DuomoCostantino D'orazioMichelangelo. I'm fireSala dell'annunziata
-21 HOURS
Cristiano De Andr and Lee Charles
The version of C.
Piazza Duomo
SATURDAY, APRIL 30
-15 HOURS
Geronimo Stilton
Great return in the Kingdom of fantasy 2Teatro Comunale
Susanna Casciani and Antonio Dikele Distefano
Love when love endsCampo della Rocca
-17 HOURS
Mario GiordanoProfugopoliPiazza Duomo
Giulio Albanese with Stella Pende
Victims and executioners. In the name of GodCampo della Rocca
-19 HOURS
Jerry CalA life of lust
Piazza Duomo
Daniela Santanch with Paolo Del DebbioI'm a woman, they are the Holy
Campo della Rocca
-21 HOURS
Vauro SenesiAll Vauro. Sixty gives me so much
Piazza Duomo
Diego De Silva and Antonio Pascale
Reading couples therapy with aggravating
Campo della Rocca
SUNDAY, MAY 1
-15 HOURS
John Peter SloanEnglish from scratch Kids
Campo della Rocca
Kate Morton
Feminine charm & mystery: passions
Sala dell'annunziata
-17 HOURS
Vittorino AndreoliThirteen Ges
Piazza Duomo
Marcello SimoniPreview of the Inquisitor's logo
Campo della Rocca
-19 HOURS
Mauro Corona e Fabio GenovesiHistory of my land
Piazza Duomo
-21 HOURS
Giorgio PanarielloI know there will always be
Piazza Duomo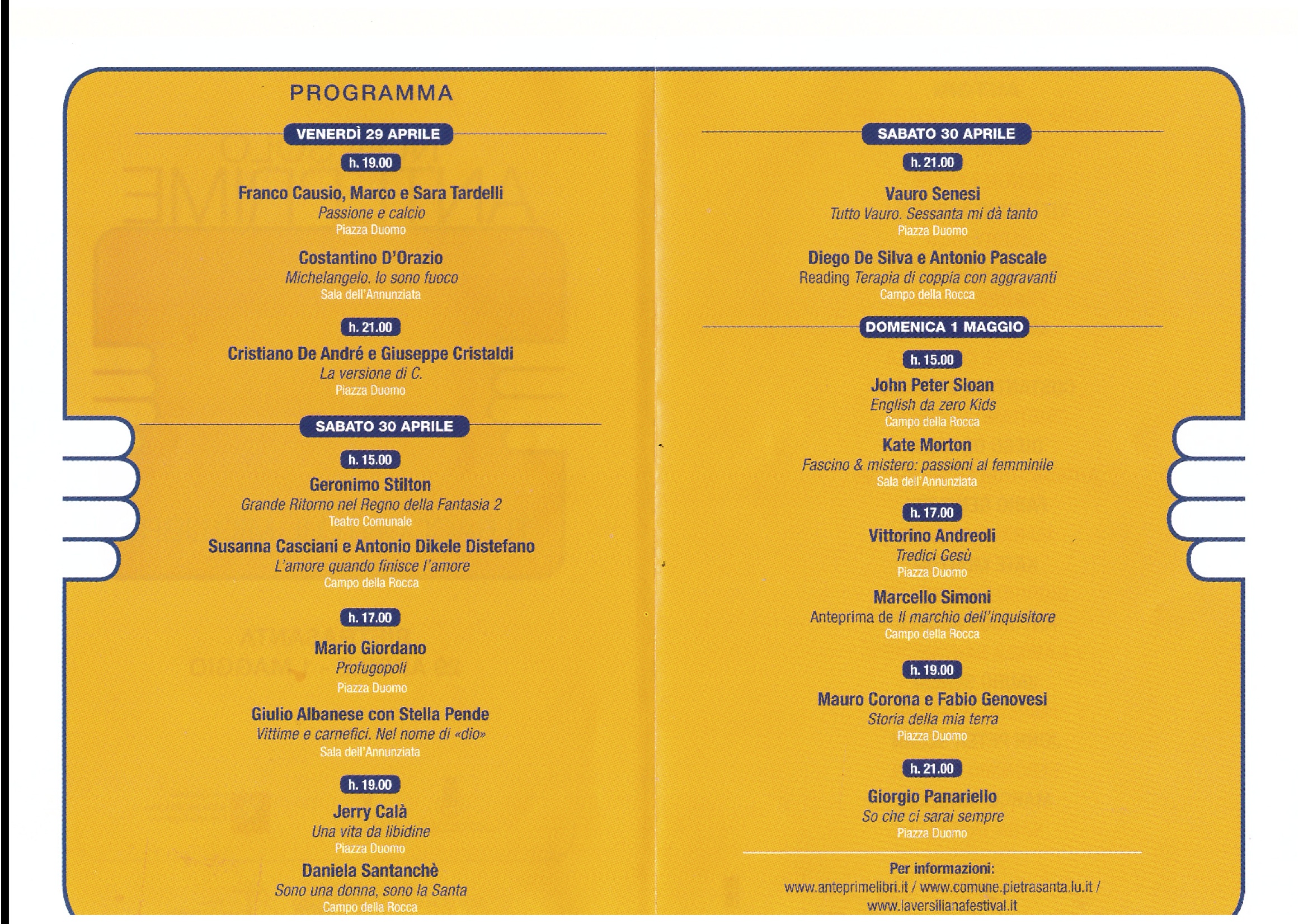 ---